POWERFLUSHING SERVICES IN PULBOROUGH & SURROUNDING AREAS: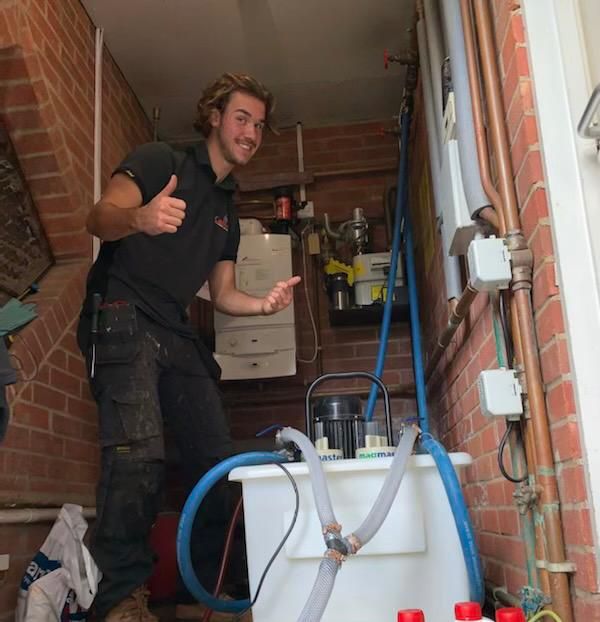 Cannon Plumbing & Heating specialise in carrying out effective powerflushing services across West Sussex including Pulborough, Horsham, Worthing & more.
Your home depends on heat – whether its to get you going in the morning with a hot shower, or to keep you toasty in the evenings. Powerflushing is an excellent tool in our arsenal which essentially allows us to cleanse your heating from the inside out. Using high pressure to pump water and sometimes various chemicals through the pipes, powerflushing clears out rust, scale, dirt and debris which has accumulated over the years – thus reinvigorating your heating system and helping it work more effectively and efficiently.
What are the benefits of powerflushing?
Powerflushing ultimately helps keep your central heating running at its optimum. If you're experiencing symptoms such as leaking radiators, radiators that are slow to warm up or don't heat all the way through, it's likely something that a simple powerflush could fix or certainly improve. Benefits include the following:
Improved performance – your central heating will work faster and more responsively than before
Increased efficiency – which saves you money on your energy bills
Extended lifecycle for your heating system – keeping it working better for longer
More steady heat – a heating system which does what you ask it to, and warms your radiators from top to bottom
Having carried out many powerflushes in Pulborough and the surrounding areas, our friendly team would be more than happy to come by to conduct a quick inspection and determine whether powerflushing could benefit you.
Powerflushing from Cannon:
We operate across the county of West Sussex providing powerflushing services to customers which include residential properties, care homes and estate/lettings agents. Our team of qualified engineers understand that safety is always key and operate with the utmost care towards your property and home. For any powerflushing needs, Cannon Plumbing & Heating have the expertise and experience to help.
Why choose us?
As a local business in West Sussex, we understand the importance of operating with integrity. We pride ourselves on accountability; here at Cannon, we do what we say we're going to when we say we're going to do it, and hold our customers paramount in every decision we make. You can trust that we're going to provide you with the best solution – the one that most suits your own needs, not ours.
By maintaining our focus on customer service above all else, we're able to offer effective powerflushing services to customers across Pulborough and beyond – we're proudly accountable, consistently reliable and always available.
Get in touch with our friendly team to discuss your powerflushing needs in West Sussex. Call us on 01798 667070 or send an email to [email protected].
WHY USE CANNON PLUMBING & HEATING?
Complete Plumbing Service
WHY USE CANNON PLUMBING & HEATING?
Complete Plumbing Service