NEST VS HIVE:
WHICH ONE SHOULD I CHOOSE?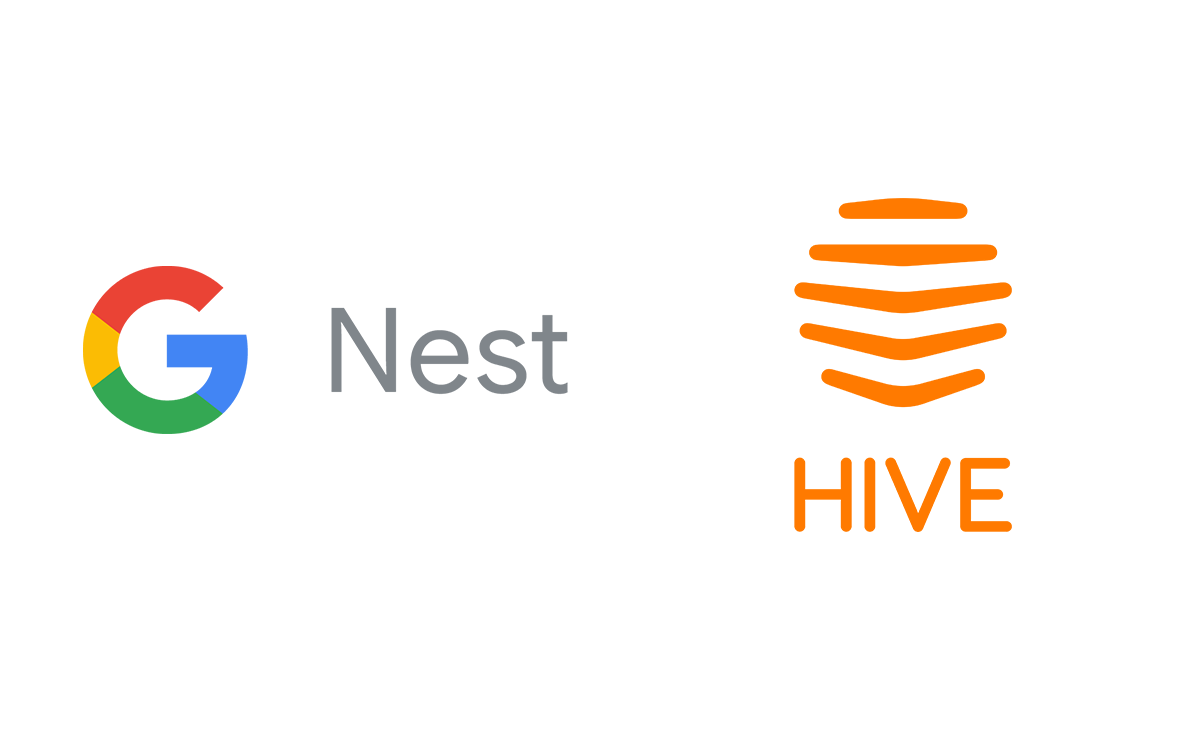 Technology is increasingly becoming a part of our lives, and shows no signs of slowing down; it powers so many aspects of our day to day, and now it's powering our homes too.
Smart thermostats have been around since about 2007 when they were first developed. Since then, many competitors have come to the market, with a few options becoming key players in the heating game: namely, Nest and Hive. The Nest vs Hive debate rages on today and, with both being stellar products, we can understand why.
So, which should you choose from these two leading brands? Have a read of our quick guide outlining the pros and cons of Nest vs Hive and vice versa. But first, what are the benefits of installing a smart thermostat in your home?
Controlling the heating in your home completely remotely. Get that heating on ready for when you get home from your holiday or just a chilly day spent outside, and save your pipes from freezing in the winter with smart technology home protection features.
Higher visibility over energy costs. A smart thermostat gives you more control over the functionality of your heating system, which in turn will lead to greater understanding of where you may be wasting energy and, in turn, money along with it.
Less energy wastage for a greener home. By using your heating system more efficiently, smart thermostats help to reduce your carbon footprint and grant you less of a negative impact on the environment. Everyone's a winner!
Quick Nest vs Hive comparison table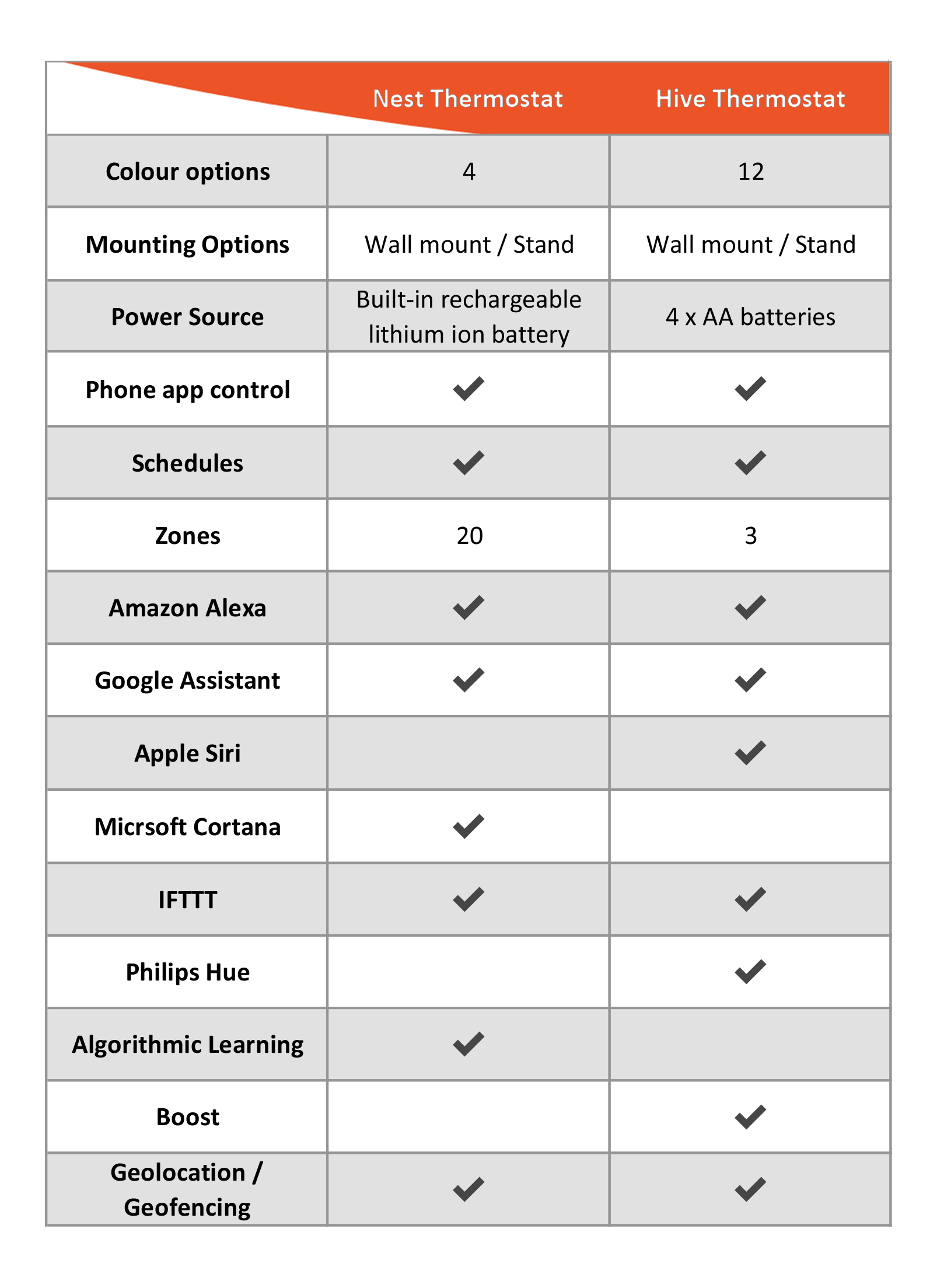 Nest vs Hive: What You Need to Know
Whilst there are definitely pros and cons to each smart thermostat, they do share a few key features in common.
Nest and Hive both have an integrated mobile app, making powering your home from the palm of your hand easier than ever before.
Both models are considered easy to install (although guidance is and even installation services are available and highly recommended – that's where we come in!)
Nest and Hive both offer the option to set up mobile alerts which will notify you in the event of a problem, system failure or otherwise.
Both Nest and Hive have a 'learning' program, which allows the technology to generate auto-features based on its experience of your habits, routines and patterns – what time you usually arrive home after work, what time you leave in the morning, when the house is empty, and so on and so forth.
All of these shared pros make the Nest vs Hive decision even more difficult – but at least you know that, in choosing one of these smart thermostats to be installed in your home, you'll be getting a good product either way.
So, when it comes to differing functions, which device wins? Read below to tally up the points.
Nest vs Hive: Compatibility
The first and foremost thing to consider when installing a smart thermostat is whether it's compatible with your current central heating system. For the very most part, Nest works alongside any heating system, whilst Hive doesn't work with storage heaters or individual plug-in electric room heaters. It's also pertinent to consider the device's compatibility with other pieces of kit you may be implementing – like Alexa or Google home, for instance. With Nest, it's as easy as, "Hey Google, turn my heating up to 21 degrees,". Whilst Nest integrates with many other well-known home automation systems and apps, Hive generally only works with its own branded products – although they do work alongside Alexa. For compatibility, the point goes to Nest.
Nest vs Hive: Placement
Whilst both options are pretty easy to install, Hive wins the point on this one. Where Nest has to be wired or plugged in, Hive needs just 4 AA batteries to operate for up to two years. This no-fuss approach from Hive means you can place their device on any wall, anywhere in your home, rather than having to concern over finding an empty plug socket to reach.
Nest vs Hive: Design
We've talked about where you can place each of these smart thermostats, but what about how they look on your wall in general? Of course, this one may end up coming down to personal preference, but we're inclined to lean towards the rounded, more modern-feeling design of Nest's device. Whilst both options are aesthetically neutral and certainly won't be an eye sore by any means, Hive does include at least one button, whereas Nest completes the clean look with none, and is controlled entirely via app. We give the third point to Nest.
Nest vs Hive: Price
Finally, match point comes down to price. Neither brand will set you back an extortionate amount but, considering that they both have very similar features, Hive would appear immediately to provide better value for money. Nest is the more expensive of the two, coming in at around £189-£219 for the device, not including installation. Hive retails for around £149 and it's even been known to throw in a free gift from time to time, such as an Amazon Echo Dot. When it comes to price, we have to give the fourth and final point to Hive.
The true fact of the matter? That small initial outlay is a cost you'll likely get back more than once over, due to the cost savings your home will see by installing a smart thermostat.
So, to summarise, there really is very little which defines one of these fantastic brands from the other. The Nest vs Hive debate will undoubtedly continue but, with both companies consistently working to innovate and develop their products to bring customers the latest and greatest, it's a subject we at Cannon will keep on top of on your behalf. If you're considering installing a smart thermostat in your home, we'd love to answer any questions you might have; our expert team have vast experience in fitting and installing smart thermostats in Pulborough, West Sussex and the surrounding areas.
Contact us on 01798 667 070 or drop us a line to talk Nest vs Hive and any other heating-related enquiries you might have.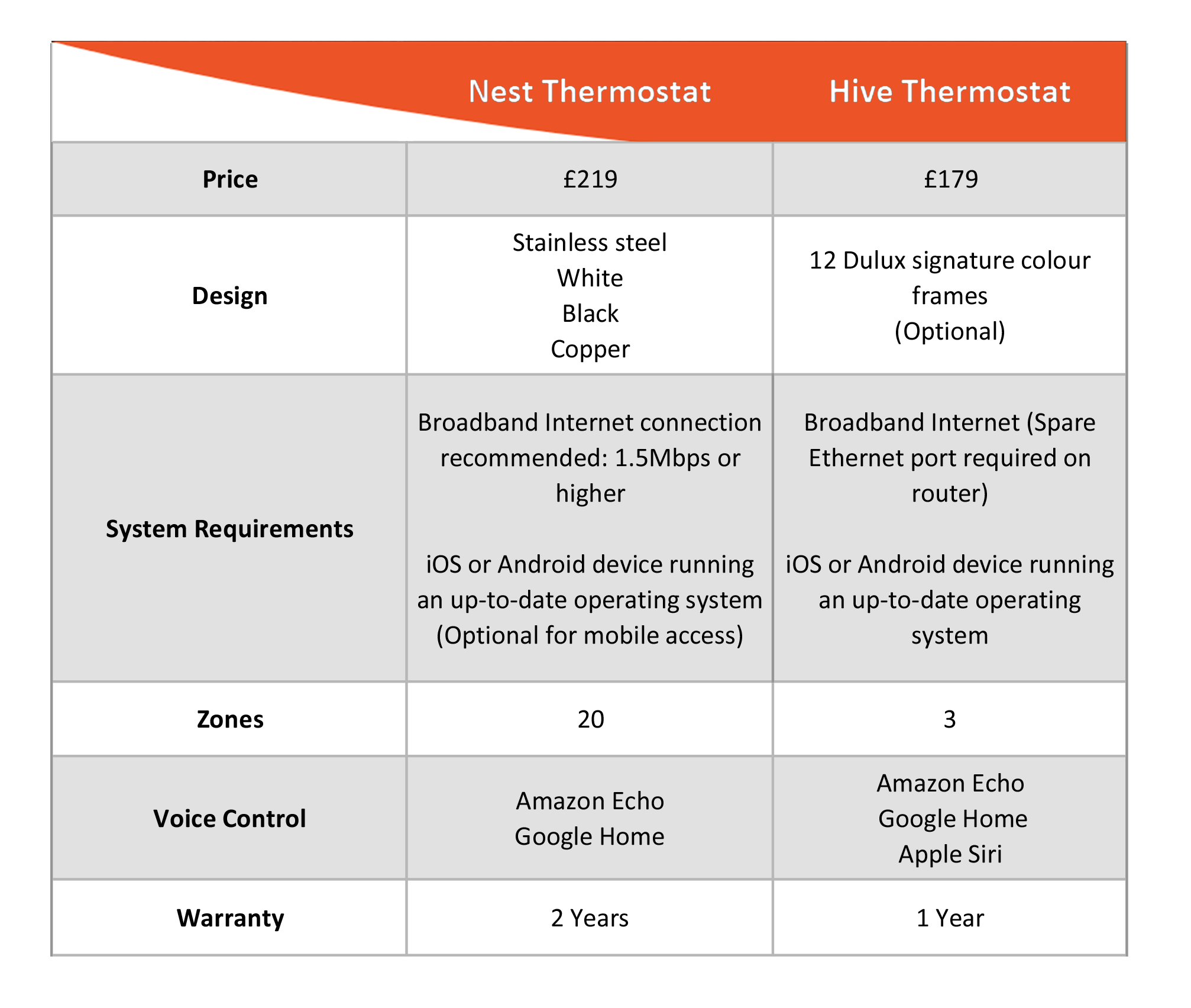 WHY USE CANNON PLUMBING & HEATING?
Complete Plumbing Service
WHY USE CANNON PLUMBING & HEATING?
Complete Plumbing Service
PLUMBING AND HEATING
SERVICES:
Boiler Repairs/Servicing/Installation • Plumbing • Heating • Gas • Emergency Call Outs

Boiler Repairs
Cannon Plumbing & Heating specialise in conducting fast-turnaround boiler repairs across West Sussex including Pulborough, Horsham, Worthing & more.

Boiler Servicing
Boiler Servicing is important and your home depends on heat – whether its to get you going in the morning with a hot shower, or to keep you toasty in the evenings, especially in those winter months.

Boiler Installation
Installing a new boiler can feel like a daunting challenge. From trying to understand which boiler to purchase, followed by finding a reliable installer to see the process through, there's a lot to think about; which is where we come in.

Plumbing Services
Cannon Plumbing and Heating will take care of all your plumbing needs, from leaking taps, burst pipes to full bathroom refits.

Heating Services
We design – Install – Commission - Service and maintain all types of commercial and Industrial heating, large and small.

Gas Services
Install, repairs and services for all domestic requirements.
Emergency Services
We offer emergency plumbing and heating services which include fixing burst or leaky pipes, busted boilers and even more.

Powerflushing Services
Powerflushing is an excellent tool in our arsenal which essentially allows us to cleanse your heating from the inside out.

Unvented Cylinder Installation
There are many different systems to choose from when it comes to hot water; utilising an unvented cylinder is a great way to heat yours efficiently, without the hassle of installing a cold water storage tank.
Read the latest from Cannon: